Purchase Orders
Giving you control.
Purchasing at a Glance provides complete control of your purchase order management process.
With a few clicks, efficiently create POs from requisitions or your stock catalog. Use blanket purchase orders for maintenance and service agreements or standing orders. Let PAAG auto-generate POs for stock items based on defined minimum inventory levels.  
 
Access all your purchase orders in one place. Sort and search by a variety of fields, including vendor, stock item, department, and PO status. Easily cancel a full PO or just a line item, or make an addendum. View, print, and copy completed POs with fully detailed history.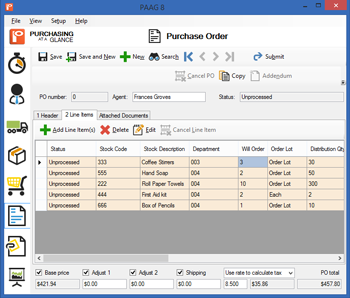 Convert Backorders to POs
Drop-ship to multiple sites
Apply pricing at receipt or at a later date
Receive full or partial shipments of line items
Export information for use by A/P
Maintain Blanket POs
Duplicate previous POs
Review history by Department or Stock
Automatically distribute based on backorders
Create audit trail
With PAAG data entry is quick and straight forward. The Action Console makes it easy to receive and invoice, with the flexibility to login stock and apply pricing in one step or separately. Make adjustments for partial shipments, taxes, and discounts to maintain an accurate accounting. From creation to invoicing, Purchasing at a Glance helps you control your purchase order process.
Quotations
Request quotes from multiple vendors for major purchases:
Compose quotation with as many details as required
Copy quotation for all vendors
Automatically generate a PO from the best quotation